METROLOGY
CUSTOMISED SUPPORT FROM CALIBRATION TO THE COMPREHENSIVE MANAGEMENT OF YOUR EQUIPMENT, ON-SITE CALIBRATION AND VERIFICATION
Pressure: measuring chains and pumps up to 2,000 bar
Temperature: measuring chains and thermometers from -80 to 1,000°C
Mapping of thermostatic chambers according to FD X15-140: 2013, EN 60068-3-5: 2002 or ACEI method
Displacement: LVDT and extensometers (linear displacement up to 25mm, diameter from 18 to 65 mm, spacing from 35 to 70 mm)
Strength: measuring sequences up to 200 kN
Other: flow rate, viscosity, speed, consistency, sound, acoustics, etc.
Our certifications and reports comply with the recommendations of the NF EN ISO 10012 standard, and specify the identification and connection of the calibrators used, the method reference, and any sampling uncertainties. We provide measurement uncertainties with our results at all times as this is a key parameter to assess their reliability.
We propose two methods to certify the conformity of the results (with or without the risk factor).
Our calibrations are carried out on-site to enhance the reliability of the results (to account for disruptions arising from the use environment).
SUPPORT
Our teams also provide support, advice and implementation regarding: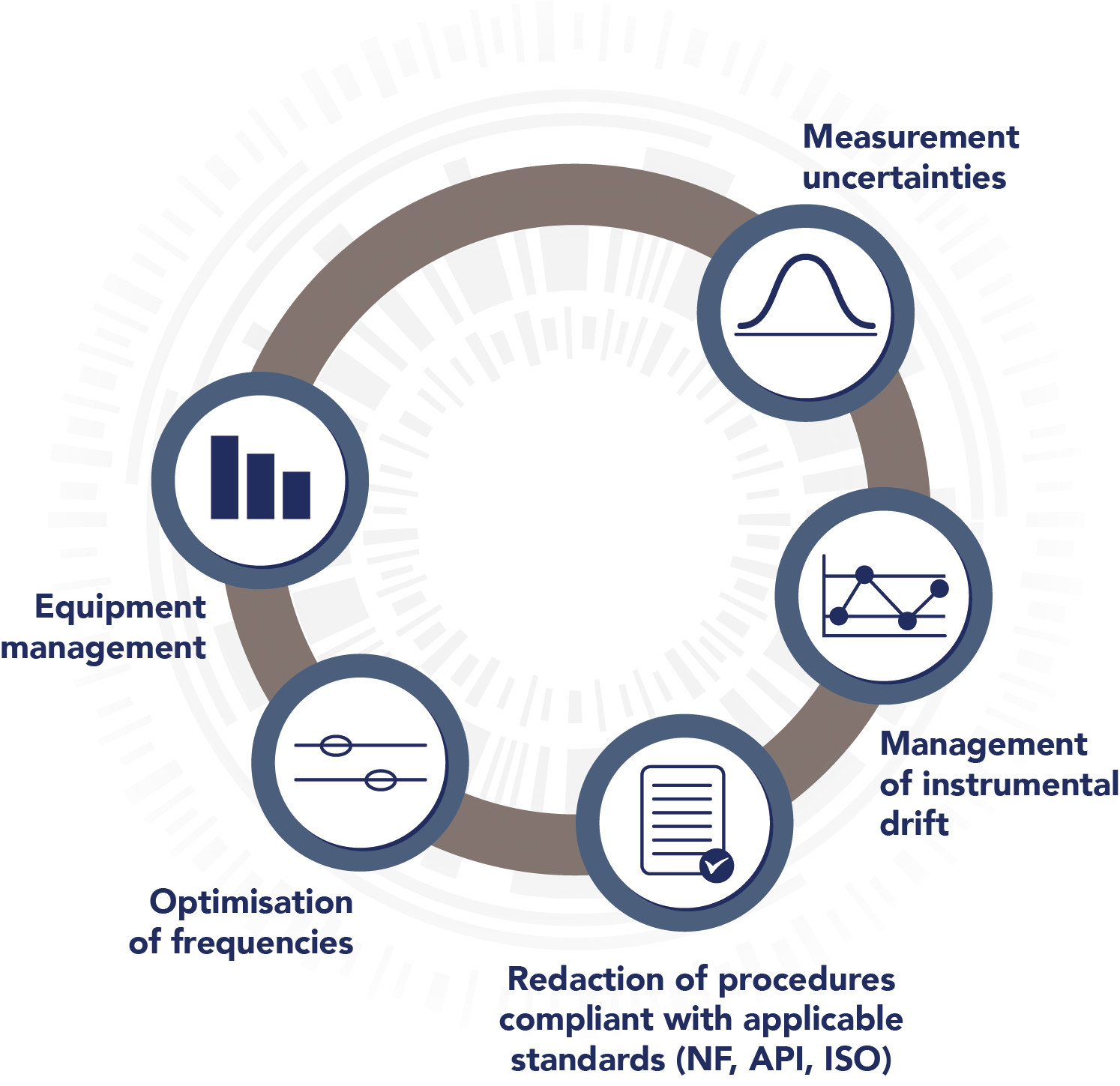 Equipment management: update of uncertainties and optimization of calibration frequencies according to the statistical studies based on the analysis of the history or the results of cross-comparisons between instruments.
AS A MEMBER OF THE AFNOR X07B COMMISSION AND EXPERT FOR COMMISSION M13 OF BN PETROLE,
WE TAKE AN ACTIVE PART IN THE CONTINUOUS UPGRADE OF METROLOGY PRACTICES.
TRAINING ADAPTED TO YOUR NEEDS
EXAMPLES OF PAST TRAINING:
Measurement uncertainties
Temperature metrology
Physical principles and industrial sensors